---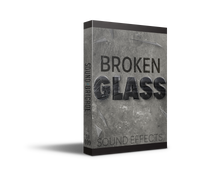 BROKEN GLASS FOR YOUR PROJECTS
The SB109 BROKEN GLASS Sound Effects Library is a collection of glass shatters, breaks, hits, debris/glass shard movement and glass pile sweeps.

YOUR SECRET FOR BROKEN GLASS AND GLASS SOUND DESIGN

We took a variety of glass objects, including beakers, carboy jugs, mason jars, tumbler cups and stemware out to a remote area of the desert and recorded them in all their glory!!  These glass shatters, hits and breaks are great for augmenting and amping up production effects -- and add a little processing to the various debris, shard and pile sweep movements and you can create all sorts of shimmering sound design.  Enjoy!

Files:

 

33
Size:

 

393.2MB
Available As:

 

Instant Digital Download
Format:

 

24b / 96k .WAV // Windows + Mac
Metadata:

 

Soundminer Compliant Metadata + Organized File Name Structure