---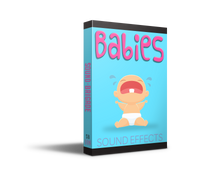 BABY SOUNDS FOR YOUR PROJECTS
The SB108 BABIES Sound Effects Library is a collection of various male and female baby sounds ranging in age from 1 month to 16 months.
YOUR SECRET FOR REALISTIC BABIES

What do you do when you are an audio professional and have kids?  Record them, that's what.  And that's exactly what we've done with this library.  From 1 month to 16 months -- male and female -- crying, fussing, hiccuping, burping, screaming, happy vocal sounds and more are all captured here.  Every file has Soundminer compliant metadata embedded, and an organized file naming structure.  Don't use that same baby cry sound effect you've heard in TV and film for the last 30 years -- get this library and create new, realistic baby scenes.  Or maybe you just enjoy listening to crying babies -- it's good for that too.

Files:

 

92
Size:

 

872.3MB
Available As:

 

Instant Digital Download
Format:

 

24b / 96k .WAV // Windows + Mac
Metadata:

 

Soundminer Compliant Metadata + Organized File Name Structure