---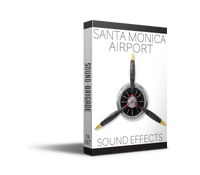 SMALL AIRPORT AVIATION SOUNDS FOR YOUR PROJECT
The SB107 SM AIRPORT Sounds Effects Library is a collection of helicopters, small commuter jets, single propeller, twin propeller sounds and more all recorded on a small airport runway.
YOUR SECRET FOR SMALL AIRPORT AVIATION SOUNDS

We spent a few days on the runway of the Santa Monica, California airport capturing a bunch of small aviation sounds not normally found in sound effects libraries.  We then edited down the hours of recordings to come up with the most useful 129 sounds for you.  This includes recordings of take-off and landing passbys from Cessna, Pilatus PC-7, Sia Marchetti Turbo, Steerman Bi-Plane, T-28 Trojan and other aircrafts.  There's even a plane landing tire chirp included this library.  These sounds are focused on take-off, landings and engine taxiing at a small airport - including long tails on take-off and landing for realistic placement in your project.  We even captured a few neat recordings of the pushback tug tractor and sounds from some rarely recorded military helicopters.  Every file has Soundminer compliant metadata embedded, and an organized file naming structure, so you can spend less time searching, and more time creating.
Files:

 

129
Size:

 

3.21GB
Available As:

 

Instant Digital Download
Format:

 

24b / 96k .WAV // Windows + Mac
Metadata:

 

Soundminer Compliant Metadata + Organized File Name Structure