---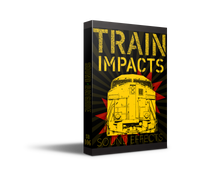 TRAIN SOUNDS FOR ANY PROJECT
The SB106 TRAIN IMPACTS Sound Effects Library is a collection of massive metal hits, designed train pass-bys and metallic brake friction for sound design manipulation.  The perfect package for creating your own whooshes, stingers and other unique sound design uses.
YOUR SECRET FOR UNIQUE SOUND DESIGN

We recorded massive metal impacts, closeup brake frictions and other interesting unique train sounds to use for sound design manipulation. Use these huge bass filled hits to create interesting stingers and booms — drop them into your LFE channel and really feel the sub bass rumble.  These sounds are a little out of the ordinary, but that is what makes them so awesome.  Combine this library with SB105 TRAINS, and you'll be able to create everything from realistic to subjective train experiences.  Every file has Soundminer compliant metadata embedded, and an organized file naming structure, for ease of use and quick searching.