---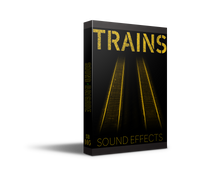 REAL TRAIN SOUNDS FOR ANY PROJECT
The SB105 TRAINS Sound Effects Library has a variety of train ambience, train horns, train passbys and more for building realistic train scenes and sound design manipulation.
YOUR SECRET FOR REALISTIC TRAINS
We recorded train horns, pass bys, brakes, ambience, slack action and more from Amtrak, Passenger and Freight trains.  After days of recording, we carefully edited and chose sounds we would use in our own projects.  The unique and differentiated horn and horn doppler sounds alone are worth the cost of this library.  Every file has Soundminer compliant metadata embedded, and an organized file naming structure.  The 94 sounds in this collection will help you elevate your project and bring realism to any train scene.