---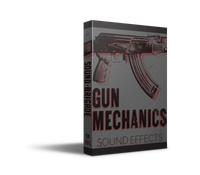 GUN MECHANICS and GUN FOLEY FOR ANY PROJECT
The SB104 GUN MECHANICS Sound Effects Library has a variety of detailed gun mechanics and gun foley.
YOUR SECRET FOR REALISTIC GUN MECHANICS and GUN FOLEY
We recorded the mechanical intricacies of real firearms including slide racks, hammer cocks and releases, magazine inserts/ejects, bullet loading, chamber release, trigger dry fires, handling sounds and much more of the following guns: Smith & Wesson 22LR, Smith & Wesson Model 39 9MM, Smith & Wesson Snub Nose .357 Magnum, Taurus Judge, Colt 1903 32ACP, Glock 23, Glock 26 9MM, Rimfire Beretta U22, Smith and Wesson .39 9MM, Sig Sauer P229 9MM, Taurus PT99, WWII Luger, XD40, AK-47, AR-15, Enfield British 303, Mossberg MVP, Mosin Nagant, Remington 700 7MM, Remington Tactical 30-30, 12 Gauge Remington Versa Max, Double Barrel Shotgun, 12 Gauge Mossberg 500 Shotgun and Single Shot Shotgun.  Every file has Soundminer compliant metadata embedded, and a structured organized file naming structure.  This library can be used as a stand-alone sound effects library for any of your gun mechanics and gun foley needs, or use it as a complement to our SB103 GUNSHOTS Library.